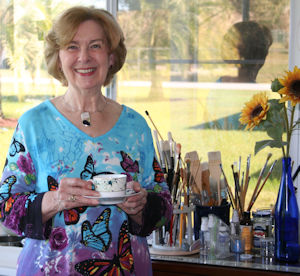 Barbara Fife enjoyed drawing, painting and creating things since childhood, but her interest in art was put aside for many years while her career took a very different path as a high school science teacher. Barbara earned a Master of Science degree at RPI in New York and a Doctorate in Education at the University of Michigan Ann Arbor. After a long career teaching science and technology, she has found time in retirement to return to the joys of creative artistic expression.
In 2001, Barbara and her husband moved from Michigan to Florida, and Barbara joined the West Pasco Art Guild in New Port Richey, a wonderful art group that met weekly and provided inspiration and encouragement as members shared art theory, demonstrated watercolor techniques, and held group critiques. Guild workshops with noted Florida artists Ingrid Lederer, Elaine Hahn, and Betty Welch FWS also helped Barbara develop new artistic skills, and the many Art Shows at the West Pasco Art Guild were an opportunity to exhibit her work. Many forever-friendships were forged with artists at the Guild: Jean Metzenthin, Marian Heinlein, Patti Veon, Donna Lyle, Ann Clark, and many more... What a wonderful group of women!
In 2003 Barbara and her husband moved to Ocala where she enjoys opportunities provided through the Appleton Museum of Art, the Ocala Art Group, Marion Cultural Alliance, Florida Watercolor Society and the Citrus Watercolor Society. Barbara continues to take workshops with masters of the watercolor medium: Tom Jones, Pat Weaver, Paul George, Janet Rogers, Mort Solberg, Virginia Chen, Lynn Ferris, Susanna Spann, and Kim Minichiello. Barbara is also indebted to Jackie Schindehette for her instruction in oil painting at her studio in Ocala, and Barbara is grateful to master calligrapher Ted Mayhall and his wife, renowned sumi-e artist Yolanda Mayhall for their inspiration. Ted presented an "East Meets West" calligraphy workshop at the Appleton Museum that reawakened Barbara's interest in the art of fine writing. Ted and Yolanda introduced Barbara to the Creative Calligraphers of Citrus Springs. In March 2016, Alison Clement called the first organizational meeting for a local calligraphy group at the Appleton Museum, and The Ocala Calligraphy Guild was founded. Although Barbara occasionally works with acrylics, oils, mixed media, and calligraphy, watercolor remains her favorite medium. Barbara is an avid life-long student. Art books, magazines, on-line sources, and videos that inspire and teach art are as indispensable to her as art supplies.
Barbara's watercolor style is interpretive realism. Her penchant for detail is no doubt a carryover from her scientific studies. Her subject matter is diverse, but the beautiful and intriguing natural world still captivates her imagination. Nature in many forms: flowers, birds, and animals, especially her pets, are favorite subjects and models. Many of Barbara's paintings take inspiration from collections of photos she has taken at local parks and events and global travels. Barbara values old things. She sometimes includes historic homes and vintage vehicles and old toys in her paintings. Her still life compositions often portray treasured family heirlooms, antique lace and quilts, and delicate flowers from her garden that are arranged and painted from life in her studio.
Special thanks go to her husband, Buck, who is the love of her life and first "Collector". Buck offers encouragement and endless support for Barbara's endeavors. He is the first critic on every piece, and the one who says "Sign it!" when Barbara tends to go on and on with a painting. Buck is Barbara's official framer who puts those final touches on each finished work.
Through her paintings, Barbara shares her personal view of the world. You can find her work exhibited at many art shows and venues in the Ocala area.